My Beloved Children,
This is a time of great awakening. It is a time for an awakening to the truth of what is and always had been true. I am talking to you now, in a way that will touch your hearts and minds, and assist you in allowing these messages of love to come into your hearts.
I have brought forth these Messages from the Heart within three different tools. These tools are to assist in bringing forth these messages of love to your understanding. I shall explain the function and purpose of each so that you will know the value that is within each of them.

The first tool is a CD with seven songs. The music is channeled from the celestial realm through a great Master of sound and heart, Eloiwa DeFreitas. She intuitively plays the harp, Native American flute, as well as crystal bowls and chimes. She was also instrumental in the digital recording of the songs.
The voice is brought through Shoshanniah. She is channeling My words and tones. The language that she is singing is called the language of love and it will speak to you in ways that you will understand. It is an ancient language known by your heart.
These songs will assist in bringing a remembering to you of your great truth and the great plan that you are a part of. It is time to remember and prepare for the Golden Age that is coming.
The songs were recorded in a sacred space in Northern Idaho, a place where the land assisted in this great work. Many thanks to Michelle Monetta, a great keeper of the land and a holy woman who assisted in holding this sacred space for these songs to come forth. Many thank to the owner of a sacred dome where most of the recordings took place.

The following songs have been brought forth in love and grace:
1. Messages from the Heart
2. Awaken My Child
3. A Mother's Song
4. Sweet Memories
5. A Bedtime Light Story
6. Open Hearts
7. The Call to Oneness

Total:

11:11
05:54
09:13
08:55
17:11
08:37
07:10

68:18

The second tool is a lovely necklace with a sacred stone. The stone is Rhodonite and comes from Brazil. This stone is a heart stone and assists in the expansion of divine love. It is most beautiful and delightful to look upon.
I have blessed this stone to assist in holding the energies of divine love in a place of acceptance for you to choose. This stone, as you wear it or place it near you, will radiate My love to you, and assist in the opening of your heart to feel and remember what it is to be divinely loved.
This stone is blessed in a sacred way that will automatically cleanse it from less than divine love energies and vibrations. It is designed to assist you, the holder of it, as well as those who are around you. It will always offer the highest form of love to all who will accept this sacred gift, and is calibrated to evolve with you, as you progress in your evolution to higher consciousness of love and light.
I offer this gift as a tool of love to assist you in feeling the love that your Father and I have in Our Heart for you.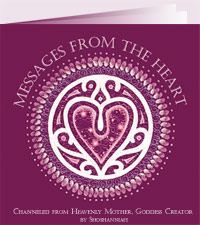 The third sacred tool is a booklet. It is a collection of channeled Messages from My Heart to Yours. Within the words, are messages of love to assist you in remembering divine truth. The words are encrypted with a special message, just for you.
I love you dearly, and desire for you to feel the joy and the love that is within My Heart for you. You were created in great joy and great love. This is your divine truth.
Blessings to you, My Dear Children,
Your Beloved Mother
Note:
Each of these can be ordered from the Online store.
+1-510-364-6605
COPYRIGHT © 2009 WWW.SUNSHINEINYOURHEART.COM ALL RIGHTS RESERVED